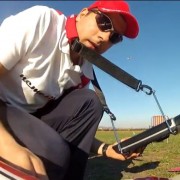 The deteriorate has eventually started.
After a prolonged cold winter it is always a good feeling to  spend afternoons again on a field. It's time to rehash a planes, make a required maintenance, recharge a batteries and all get started.
Once we are there we can practice a favourite type. Doesn't matter it is 3D, scale, soaring, or speed flying, a indicate is a feeling. One of a specialization could be filming that is a good fun! For me it's always heart warming to see my footage in wintertime shot in opposite places. If we have a bit of essence for it we can make them to be beguiling by others too.
Here is an instance with footage from Hungary squeezed in 5 minutes. Enjoy, and don't forget to  push a "like" it if we unequivocally like it.
Enjoy:
István