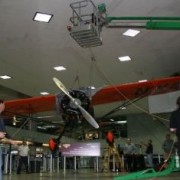 This story about Lucky Lindy's Monocoupe comes to us from a sister publication, Flight Journal. The video is great!
Charles Lindbergh's plane, that had formerly hung in Terminal 1 during Lambert-St. Louis International Airport given 1979, has returned to a place of welcoming passengers to a St. Louis airport. The famous aviator's 1934 Model D–127 Monocoupe, an iconic pitch to many St. Louis travelers, has been absent for some-more than dual years since of depot renovations. Missouri History Museum commissioned a craft in a early morning of Oct. 20, 2013.
Over a march of a some-more than 30 years unresolved in Lambert, a Monocoupe was been unprotected to dirt and other airborne pollutants along with a highlight of being dangling from a ceiling. The accumulative outcome of these conditions done it compulsory for a craft to bear a finish charge bid in sequence to safeguard a continued refuge of a aircraft. Stress fractures along several seams in a plane's fabric covering and a tears caused by ubiquitous wear compulsory veteran attention. When Lambert announced that Terminal 1 would be renovated, a Missouri History Museum worked with Lambert to mislay a craft and use a time indispensable to finish a renovations to preserve a plane.
Conservator Linda Landry managed a charge effort. She consulted with veteran aircraft conservators and achieved chemical exam research on a plane's paint and fabric. Test results, along with submit from James Harvey, a heading consultant on Monocoupes, suggested that a fabric of a Lindbergh Monocoupe was a strange 1934 aircraft skin. This is awfully singular for an aircraft to have confirmed a strange covering for so long. Once a age of a fabric and covering was established, all bid was done to keep a ancestral firmness of a plane.
The Monocoupe was assembled regulating "fabric and dope," a routine still used today. Historic materials and a thoroughfare of time emanate singular hurdles for refuge and conservation. In this form of construction, fabric is propitious over a support and afterwards lonesome with several layers of aeroplane dope, a lacquer that is used to protect, waterproof, and make frozen a cloth surfaces of airplanes. As a bone-head dries it shrinks, causing a element to widen firmly over a frame, formulating a well-spoken surface. Unfortunately, a bone-head never stops shrinking, so over a years a ever-tightening fabric can put vigour on a horizon until a fabric possibly tears to soothe a highlight or weaker tools of a interior structure snap.
Landry and charge lab partner Cailin Carter achieved a charge treatment. The charge group remade seams and tears with pointing rags and paint compounds. A full in. by in. cleaning of a interior and extraneous of a craft was undertaken to mislay scarcely 34 years of amassed contaminants.
Story and video by a Missouri History Museum