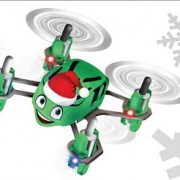 From Hobbico:
Season's Salutations, and a robust hello to we all!
I'm Proto and I'm looking for special homes for all my worker friends. That's because Hobbico is starting off a deteriorate right with Hobbico Holiday Drone HQ! Me and a Hobbico group are rolling out sweepstakes, fun videos, and some-more to get drones in homes this Christmas.
There's tons of reasons your home should have one! Drones are lots of fun and there's lots of variety! My crony Kodo is a ideal stocking stuffer… or select a attempted and loyal Proto-X. It will move fun into your home only like it has for tens of thousands of people all over a universe only this year.
Drones like a 1SQ like to play with positively anybody, and BIG drones like a FORM500 are a fun new plea for gifted flyers. There are drones that assistance we constraint holiday memories on video and even a mint Xiro Xplorer that will follow we anywhere and, as we understand, flies regulating Global Positioning Santa!
Plus, I'm streamer adult a giveaway with daily worker (cousins) giveaways and a grand esteem Xiro Xplorer—so folks are going home with a lot of rob this Christmas! Enter each dayduring a 12 Days of Drone Giveaway to win a opposite prize!
As for me, I'm one of a kind, though we can find me anytime (I do adore a spotlight) on Facebook, YouTube, or Twitter. OR, during your internal worker adoption center—a hobby emporium nearby you!
Visit Hobbico.com/dronehq to learn more!
Don't Forget a Cocoa!
-Proto