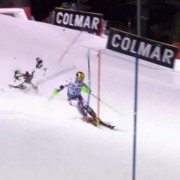 At a World Cup in Italy final night, a camera worker crashed only behind skier Marcel Hirscher during a slalom. Race director Markus Waldner told The Associated Press that drones will be taboo "as prolonged as we am obliged …. since they are a bad thing for safety."
The unmanned drifting intent carrying a TV camera came down and cracked on a icy slope only behind Hirscher during Tuesday night's competition in Madonna di Campiglio. The four-time altogether champion was unhurt and continued his run, finishing second behind Norwegian leader Henrik Kristoffersen.
"It was outrageous fitness that Marcel was not hurt," Waldner said. "I am really angry."
The association obliged for a camera drone, sports-marketing group Infront, pronounced in a matter that "the resources heading to [the crash] are now being examined."
As for Hirsher, he after tweeted about a occurrence with a hashtag #luckyme.