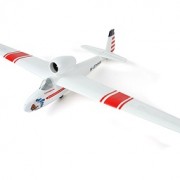 From HobbyKing:
The Hall Cherokee is a high-wing, singular chair glider that was designed by American Stan Hall in 1956 for pledge builders.  Its elementary pattern and construction methods, together with a drifting qualities lead to it apropos one of a many renouned and constructed home-built gliders in a United States.
The Cherokee can be bungee launched and versed with a servo operated draw recover resource it can also be towed aloft behind an reasonably sized indication such as a Durafly Tundra.
But in box we don't have a bungee cord or we can't find a draw pilot, there is another fun approach of removing this chronicle of a Cherokee airborne.  Included in a box is a 30A brushless ESC and a tradition 64mm ducted fan section that simply slots into place behind a cockpit of your Cherokee!
Once in a air, a Cherokee is a zephyr to fly, it is manageable though but any vices and a landings are plume light, no bitch affairs creation it ideal for a beginner and gifted glider commander alike.
Features:
Tough EPO construction
Great scale coming and finish
Bolt together construction for easy transport
Streamlined servo covers
Servo operated draw release
Fun ducted fan option
Specs:
Wingspan: 1700mm
Length: 920mm
Wing Area: 23.27 sq.dm
Flying Weight: 700g (Power EDF version)
Motor Size: 64mm EDF
ESC: 30A Brushless
Required:
5 channel radio
3S 1500mAh 25-40C Lipoly Battery
#9310000267-0 – $159.66
Visit HobbyKing.com
See some-more posts about HobbyKing