Posted: October 10th, 2015, by AircraftWriter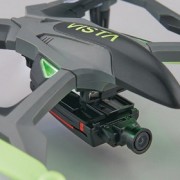 From Dromida:
Give your Vista UAV a First Person View ascent with this easy-to-install FPV Conversion Kit! Inside this package is a compact, versatile Tactic DroneView Wi-Fi HD FPV mini camera. It allows pilots to fire 720p HD video and still photos in genuine time. Once we download a giveaway DroneView app, we can tide videos and photos around Wi-Fi directly to your intelligent device. A 4GB micro memory label is also enclosed for onboard information storage. An ISO anti-vibration camera mountain binds a DroneView in place for combined stability. Use a enclosed smartphone hilt to keep your concentration on flying! Add First Person View to your Vista UAV!
Features:
Tactic® DroneView™ Wi-Fi® HD FPV mini camera to constraint photos and 720p HD video in genuine time. Compatible with a DroneView app.
Camera attaches with an enclosed ISO anti-vibration camera mount.
Comes with a micro memory label for onboard storage; download information directly to your intelligent device around a DroneView app.
Smartphone hilt keeps your device during a best observation angle, withdrawal both hands giveaway for accurate control.
Specs:
Camera Dimensions: 1.2 x 2.6 x 0.5 in (30 x 65 x 12 mm)
Camera Operating Time: 45-60 minutes
Requires: Device for Android or Apple; DroneView app (download giveaway from Google Play Store or App Store)
DIDE1199 – $79.99